Posted on 14. May, 2012 by CSG in Cosmetic Imperfections
Forget apple, pear, and hourglass shapes.  In my mind, there are only two body types in this world: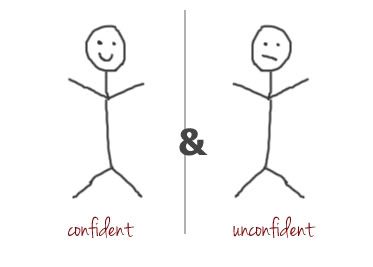 While it is possible to enhance your appearance by picking the right clothes, the key to really looking–and feeling–your best is being confident about yourself and your body.  Unfortunately, there's no secret formula for instant body confidence.  It's something that comes with time, trial and error, and lots of hard work.  Moreover, fashion is supposed to be fun!  Rules were meant to be broken, and adhering to a strict set of them based on body shape is limiting and downright frustrating.  Besides, if you're having one of those days (yes, you know the ones.  They usually involve PMS and heavy dosages of chocolate), it can be almost impossible to even determine your body shape:
So, let's try something new:  there are no rules for dressing your body shape.  You don't even HAVE a body shape.  You only have body features, and you're allowed to choose one feature you hate the most, and one (or more) feature you absolutely love.  Read up on the tips below, and roll with it!
If You Hate Your…
Shoulders:  avoid cap/puffed sleeves, shoulder pads, spaghetti straps, and square-neck tops
Small Chest:  avoid tube tops and corsets (can bring more emphasis to what you don't have) and any top that is too loose.  Get a good bra–if you haven't noticed, there are many, MANY push-up bras out there, and several stores are starting to offer bras that boost you up two cup sizes (and it actually looks natural).
Large Chest:  avoid busy patterns, turtlenecks, and anything really tight or extremely low-cut.  Get a bra that fits well and provides you with enough lift.
Waist:  avoid bold patterns and thick belts.  Invest in jackets and blazers that cinch in at the waist, shirts with ruching, and a body shaper (if you want to go that far).
Hips:  avoid super high-waisted trousers, light colors on bottom, and clingy material.  Having longer coats and jackets will make your appearance more streamlined.
Butt:  pay attention to pocket size.  Big pockets can draw more attention to your ass(ets), and extra-small ones can get lost.  Also, avoid light colored bottoms.
Thighs:  avoid light colors on the bottom, jeans with whiskering or other embellishments, and leggings.  Wearing mid- to maxi-length skirts is an easy way to cover up your thighs, and get a good pair of heels (or five–they do amazing things for your whole body, but especially your legs!)!
If You Love Your…
Arms/Shoulders:  wear anything that shows 'em off!  Sleeveless tops and dresses are a no-brainer, but try something with tight-fitting long sleeves, too, so you can show off your defined muscles through the fabric.
Chest:  try empire waist tops or any shirt that draws attention to the bust and neckline.
Waist:  wearing a big belt that cinches your waist is a work-appropriate option, while a crop-top is great for a more casual setting or night out.
Hips/Butt:  skin-tight, body-conscious styles are a great way to show off this area of your body.  Pencil skirts are great for the office, while a mini, elasticized version would be great for a show or date night.
Thighs/Legs:  skinny jeans are a wonderful way to discreetly show off your legs, while mini-skirts and short shorts are a more obvious way to flaunt what you've got.
Remember, these are just a few tips–not rules to live by.  Finding out what works best for you and your body type is all about trial and error, so grab a pile of clothes and start trying stuff on! 
- Ashley
http://2eyesinthemirror.com